Leading the bioeconomy revolution
---
EFI's Director Marc Palahí has called on forest scientists to lead the future bioeconomy revolution.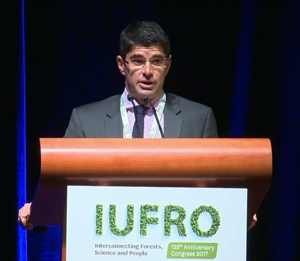 Speaking at the opening ceremony of the IUFRO 125th Anniversary Congress in Freiburg, Germany, he said that forest science needed to provide the knowledge base for the intelligent and sustainable use of our forest resources, to build a sustainable and renewable economy.
"We also need to proactively build partnerships across disciplines, policies and sectors. And of course across continents as the situation requires genuine global action."
He also called for forest science to make ambitious investments in talent, and provide them with the right environment and skills so that they shape the future.
EFI and IUFRO have joined forces to create the IUFRO-EFI Young Scientists Initiative, a transcontinental mobility programme to equip young forest researchers with the skills and experience necessary to address the unique problems they will encounter in this fast changing environment. The Initiative will be launched on Thursday, 21 September during the Congress.
More information
More information about the Congress, including the schedule can be found at http://iufro2017.com/
Many EFI staff members are presenting their research at the Congress. A list can be found here.
Image: IUFRO livestream