EFI and Euronews partner for new 360 video story on Portuguese wildfires
---
The European Forest Institute has collaborated with European broadcaster Euronews on a ground-breaking 360-degree video on wildfires in Portugal.
Euronews' special envoy to Portugal, Joanna Gill, travelled the parts of the country which suffered during the blazes throughout the Summer and Autumn. In 2017, wildfires in Portugal burnt up to 520,000 hectares of forest. This represents 60% of Europe's total, for a country that represents just over 2% of its landmass. The wildfires, now recognised as the worst natural disaster this year in Europe, have killed more than 100 people in four months.
Available on Euronews' digital platforms, the immersive experience allows the audience to witness first-hand the devastation, meet the communities affected and hear from first responders and experts.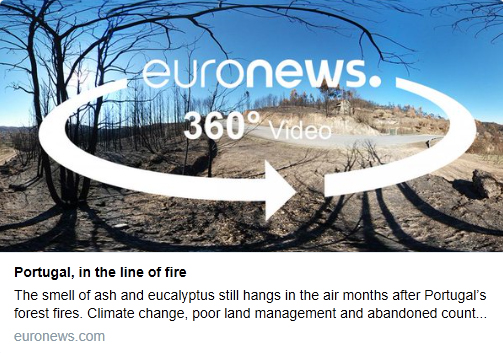 Thomas Seymat, VR & immersive journalism editor, Euronews said: "The fires in Portugal have been one of the major European stories in 2017, affecting thousands, and forcing us to look at the potential impacts of climate change on our continent. We wanted to take our audience on the ground to help understand the situation better."
Joining forces with Euronews is part of EFI's new science-media initiative, The Lookout Station which aims to connect journalism and science communities around the topic of climate change. The story on Portugal is the very first effort of the initiative, which will involve a number of media houses and provide scientific expertise to support digital storytelling on climate change. The pilot for the initiative, Lookout360° Climate Change Immersive Story Initiative, was recently launched.
EFI's Director, Marc Palahí said: At EFI we take a scientific look at the root causes behind the fires. The effects of global warming, together with the expansion of unmanaged forest land due to depopulation of rural areas, create the perfect storm for catastrophic forest fires. The focus must be shifted from fire suppression to prevention and forest management that enhances the resilience of forests to global change. Developing a sustainable forest bioeconomy is crucial for such transformation."